Together we achieve more. 
Our Team
A relationship is established. A connection towards a better you. An understanding that your future is bigger than your today.
Ross
APA Sports & Exercise Physiotherapist & CLINICAL DIRECTOR
READ BIO
Ross Kinsella 
APA Titled Sports & Exercise Physiotherapist
ACP (Australian College of Physiotherapist) member
Masters of Sports Physiotherapy (La Trobe University)
Masters of Strength and Conditioning (Edith Cowan University)
Bachelor of Physiotherapy (Hons) (University of Melbourne)
Bachelor of Medical Science (La Trobe University)
Clinical Director & Founder
Ross Kinsella is an APA Titled Sports Physiotherapist, Strength and Conditioning Professional, and is the Founder here at Freedom Sports Medicine.
His considerable knowledge of Sports Physiotherapy stems from his 16 years of varied experience in the Australian Defence Force, elite sport in the TAC Cup, VFL as well as the AFL, Sports Medicine private practice work and teaching at La Trobe and James Cook Universities.
Ross' dual qualifications in Sports Physiotherapy and Strength and Conditioning allow him to lead health rehabilitation programs across his team from acute injury, all the way through to performance enhancement — an approach that simply hasn't been done before. He is able to communicate highly complex health, performance and well-being concepts into simple strategies. Ross also draws on his own experience as an endurance athlete, where he qualified for the Hawaiian Ironman in 2013 and was able to run a 2 hour 43 minute marathon in 2014!
Ross Kinsella who has been formally recognized and titled "ACP" by the Australian Physiotherapist Association and is celebrating a
year membership.
The title ACP (Australian College of Physiotherapist) member is a measure of career progress and striving to be at the pinnacle of the Physiotherapy profession, where you become part of the network of clinical physiotherapy leaders – not only in Australia but worldwide. You must achieve titling through post entry-level Masters-level (APA titled Sports and Exercise Physiotherapist) and successfully complete a rigorous selection process to prove clinical experience and knowledge.
Outside of work Ross is a family man. He loves spending time with his partner in work and love, Sophia, his precious son Jesse and his 2 energetic dogs George and Suki. He enjoys a variety of activities such as running, hiking, strength training, yoga, gardening, studying and personal development.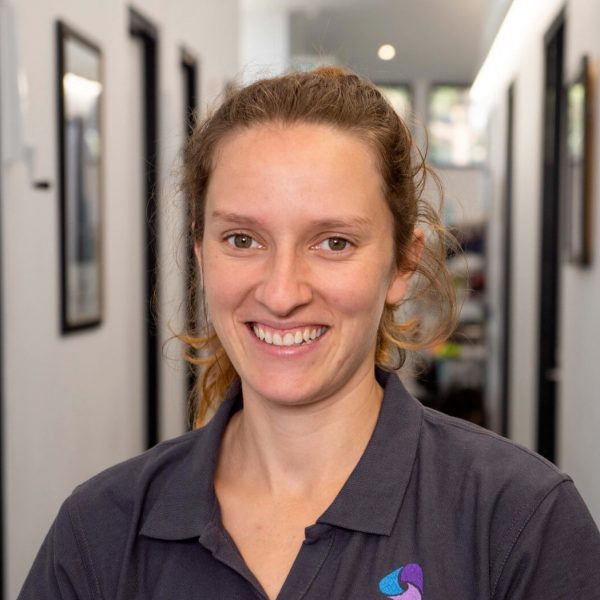 Natalie
Senior Podiatrist & BUSINESS LEADER
READ BIO
Natalie Laurie
Senior Podiatrist
Masters of Podiatry (La Trobe University)
Bachelor of Health Science (La Trobe University)
Bachelor of Biomedicine – Anatomy and Physiology (Melbourne University)
Dry Needling Level 1 Certification
Football Captain in EFL Premier League
Athletics Coach
Natalie began her studies with a focus on Anatomy and Physiology, before turning  specifically towards Podiatry. Through her study, she has developed a passion for biomechanics, exploring pathways that lead to injury, and making rehabilitation as enjoyable as possible to get people back to their activity goals. 
As a Junior athlete, Natalie has competed at a National and International level for Race-Walking. As a Senior athlete she has competed at these levels for Race-Walking, Heptathlon, and the 400 metre Hurdles. She is also heavily involved in the Donvale Football Club, where she captained the Senior Women's team in the Premier Division of EFL in the 2019 season.  Natalie is also currently a coach at her local Little Athletics Club (Nunawading) in her spare time. 
Outside of work, Natalie enjoys training for her various sports, and playing at the park or beach with her family and friends. 
HAYLEY
WELCOME TEAM ADVISOR & ORGANISATION QUEEN!
READ BIO
Hayley
Welcome Team Advisor & Accounts 
Bachelor of Exercise and Sport Science (Graduated 2019)
Bachelor of Nursing (Completion 2022)
SOPHIA
CEO
READ BIO
Sophia Rovira
CEO 
Masters of Research in Mathematical Education & Leadership
Post Graduate Certificate in Education
BSc Honors in Mathematics
Sophia's personality is a true reflection of her approach to business: results-driven, patient focused, caring, passionate and inspiring. She has 12 years of leadership experience working in education & healthcare, where she led leadership programs across the UK for leaders in schools, was a Deputy Principal and in the most recent years has led the team at Freedom Sports Medicine.
Jesse came into Sophia and Ross's world 1.5 years ago and it changed her in the most profound and magnificent way.
She realised when Jesse was quite young just how tough it is to be a parent: juggling the needs of your children whilst being a modern day "working mum" with your work or business responsibilities; trying to maintain a happy and connected relationship with your partner; and then, of course, there is the relationship with yourself. That comes last and is the one that is so often sacrificed so you can successfully be everything to everyone else.
It was becoming increasingly obvious just how unhealthy we were becoming as a society and the increasing demands on working mothers.
Inspired by her own personal health struggles with chronic neck/back pain Sophia began to realise how disconnected people are from their bodies. This relationship was reflected with so many of our clients who were disconnected from their bodies, stressed, anxious and facing complex and challenging health issues – physically and mentally, where sport and fitness was their only outlet.
Combining her personal and professional experiences entwined with Ross Kinsella's passion for Sports and his world championship ironman background they created a vision for a family focused Sports Medicine Centre that empowers all the family at all stages of their lives to live the active, healthy and happy life they deserve.
Sophia believes that a team who work collaboratively in unity, where EVERY client is noticed, can facilitate real and lasting health and life transformations for the whole family and the wider community. Sophia works tirelessly to build and unite their team of health leaders at Freedom Sports Medicine.
Outside of work Sophia's favourite thing to do is be with her beloved partner Ross, beautiful son Jesse and 2 dogs George and Suki. She also enjoys yoga, strength training, hiking and travelling.
MADDY
WELCOME TEAM ADVISOR & MARKETING ASSISTANT
READ BIO
Maddy George
Welcome Team Advisor 
Bachelor in Sports & Exercise Science (Graduate 2024)
Victorian Netball League & Blaze player
Maddy is always smiling and bringing her enthusiasm and hard working attitude to Freedom Sports Medicine so you have the best of care. She is part of our Welcome Team and you will often engage with her on the phone or when you arrive at Freedom. Undergoing thumb reconstruction Maddy appreciates first hand the challenges you face and is passionate about assisting and encouraging you on your rehab journey.
Currently, Maddy is studying at Deakin Exercise and Sports Science. Outside of her studies Maddy is a passionate and results driven netball player. She has played VNL for many years and is currently signed with Blaze. 
Outside of work she loves spending time with family and friends and just about everything to do with Sport, She loves watching local sport, going swimming, running or walking. She also loves training and competing in Triathlons!
Physiotherapist position available!
Apply now